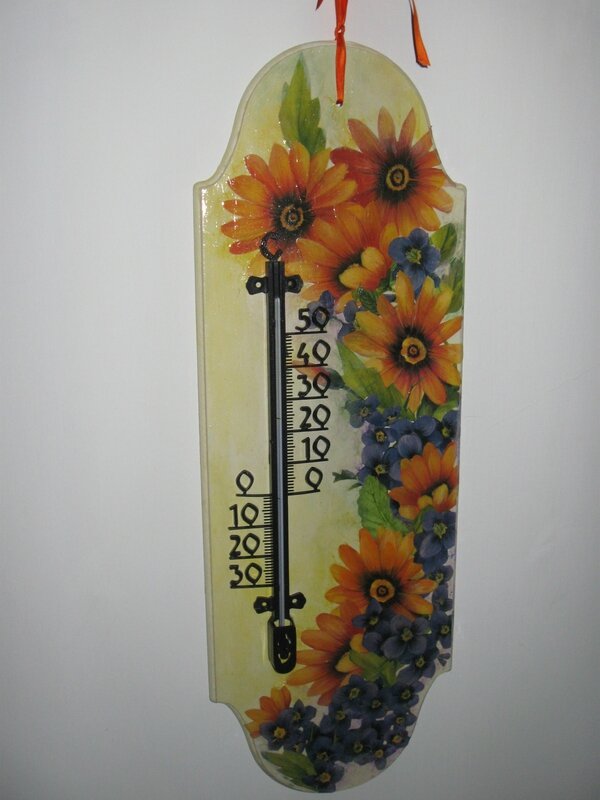 IL SUPPORTO IN LEGNO GREZZO VIENE DA OPITEC BOLZANO E IL TUTTO E' CIRCA 40 CM DI ALTEZZA PER 20 DI LARGHEZZA .

ANCHE IL TERMOMETRO VIENE DA OPITEC ED E' VENDUTO SEPARATAMANTE DALLA BASE .

LA TECNICA E' DUNQUE A DECOUPAGE USANDO DELLE GERBERE GIALLO-ARANCIO MISCHIATE A FIORELLINI VIOLETTI SU UN LETTO DI FOGLIE VERDI.

NON SO LA PROVENIENZA DELLA CARTA USATA : FRA LE CENTINAIA DI CARTE A DISPOSIONE MI SEMBRAVA QUELLA , CON I FIORI, PIU'CONVINCENTE SU QUESTO BASE E PER QUESTO SCOPO.

MI PARE CHE SIA VENUTO BENE, IL LAVORO E L'HO MESSO FUORI SOTTO IL PORTICO ...DI SPAZIO LI' ANCORA NE HO !!
AN UNFINISHED WOOD SUPPORT FROM OPITEC BOLZANO, Italy TURNED INTO A NEW DECOUPAGE IDEA : AN OUTDOOR THERMOMETER .
THE TECHNIQUE OF DECOUPAGE HAS BEEN ENRICHED WITH MY PERSONAL PAINTING TOUCH .
THE RESULT IS QUITE NICE, ISN'T IT? NOW THE THEMROMETER IS IN OUR PATIO .
UNA PLANCHE EN BOIS BRUT ACHETEE CHEZ OPITEC BOLZANO, Italie , A ETE TRANSFORMEE DANS UNE NOUVELLE IDEE AU DECOUPAGE :
UN THERMOMETRE POUR L'EXTERIEUR

LA TENICQUE AU DECOUPAGE APLLIQUEE SUR LES GERBERAS A ETE ENRICHIE AVEC UNE TOUCHE PERSONNELLE DE PEINTURE!

LE RESULTAT EST ASSEZ BEAU, N'EST-CE PAS?? MAINTENANT LE THERMOMèTRE ETS DANS NOTRE VERANDA