Una piccola cornice in blu che voi potrete fare in altre tonalità, vedrde, rosa, rosso, giallo e con tante sfumature diverse per incorniciare una piccola foto, un'iniziale , un motto, un sentimento da regalare o da tenere per voi.
A little frame that I made inblu but you can use all kinds of colours from red to rose , from green to orange to yellow to frame a portrait , a photo, an initial , a feeling, a word , a sentence to give or to keep for yourselves!
Un petit cadre en bleu que vous pouuez faire en diffèrantes couleurs , rouge, vert, orange, jaune et avec des nuances différantes pour encadrer une photo, un portrait, un monogramme, un mot , un sentiment, à donner ou bien pour vous mêmes!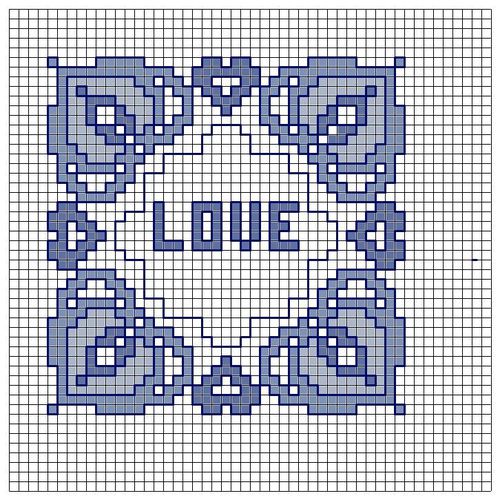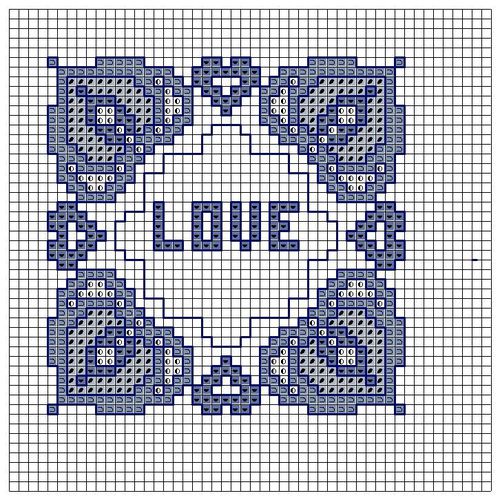 Title: Incorniciare in blu- Blue framing -encadrer en bleu
Author: Eze
Grid Size: 50W x 50H
Design Area: 8,16 cm x 6,71 cm (45 x 37 stitches)
Legend: Stitches
" DMC White white
# DMC 3838 lavender blue - dk
$ DMC 3839 lavender blue - md
~ DMC 3840 lavender blue - lt
Legend: BackStitch Lines
DMC 820 royal blue - vy dk