Per celebrare l'inzio dell'anno in uffcio , la collega francese Valérie ci ha portato la sua Galette des Rois, il dolce tipico francese dell' Epifania che viene gustato nei giorni che precedono o seguono questa festa .
Dolce di pasta sfoglia con diversi tipi di ripieno, dal cioccolato alla confettura di frutta a pasta sablè con mandorle tritate finissime.
La tradizione vuole che nell'impasto sia nascosta una fava : chi la raccoglie nella propria fetta diventa il Re per un giorno e porta una corona dorata . Chi beneficia della fava, sarà la persona che l'anno successivo dovrà preparare questo dolce!
In famiglia, il più giovane dei conmmensali, nascosto sotto il tavolo , decide la distribuzione delle parti!! Non faremo questo in uffcio altrimenti verranno fuori discussioni tipo" io sono nato 2 mesi dopo di te ..quindi tocca a me."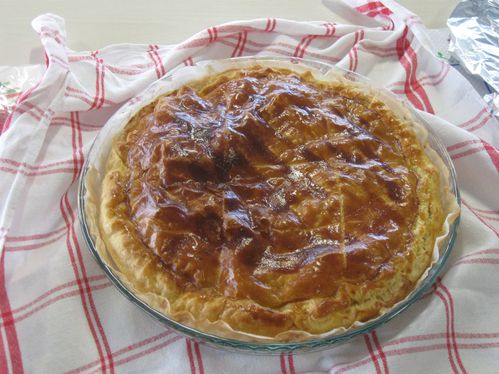 Pour célébrer la nouvelle année... de travail, ma collègue Valérie nous a pris au bureau
la Galette des Rois , gateau typiquement de France et selon la tradition lié à la fête de l'Epiphanie . Normalement la galette est servie quelques jours avant ou aprés la fête . Le gateau est fait de pâte feuilletée et fourrè avec de différantes prèparations (chocolat, confiture de fruits, frangipane, crèmes,pâte sablée et amandes , etcc..)
Dans la tradition, il y une fève qui est caché dans le gateau: la bénéficiaire de la fève dans sa tranche sera nommé le Roi pour le jour et pourra mettre une couronne en papier doré. Il est aussi celui qui devra préparer la Galette l'année suivante! Normalement , le plus jeune des invités , caché sous la table, dedide la distribution des tranches !On le fera pas ici au bureau pour éviter l'histoire "moi, je suis plus jeune que toi de 2 mois " et de choses pareilles!!
To celebrate the new working year , our colleague Valérie brought a Gallette des Rois, typical French cake celebrating the Epiphany (and the Kings to the creche) . The cake is eaten a few days before or after
January 6 . It is made with puff pastry , browned in the oven, and prepared with different fillings : frangipane, creams, fruit jams, sand dough and almonds, etc..)
The tradition wants that a broad bean is hidden inside the cake: the guest who gets it in his slice is nominated King of the day and will put a golden paper crown on his head. The youngest guest , specially in a family reunion, stays under the table and decides the distributions of the slices to the guests. Obvisuly we won't do it to avoid miserable discussion amongst colleagues such as " C'mon, I was born 2 months before you so i'll be the one to decide ..."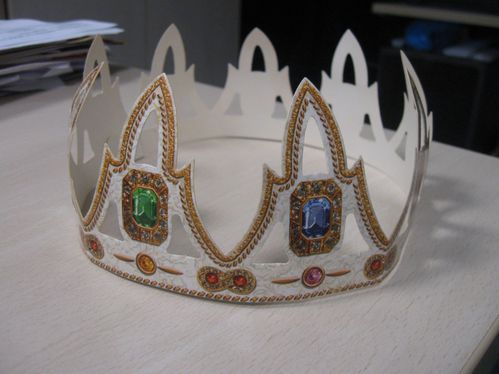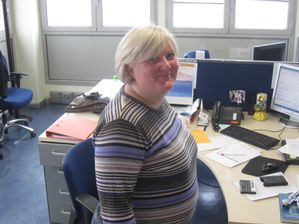 Grazie , Val! Thank you, Valérie! - Merci, Valérie!