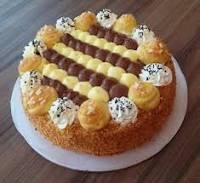 La riconoscete? E' una bellissima torta St.Honoré , originale ( e non versione torta-gelato) di pasta brisé et bignè con cioccolato, panna e crema di zabaione . La St.Honoré ha chiaramente origine francese, parigina: il nome viene dalla strada omonima (Rue St.Honoré) dove -nel 1879 il pasticciere CHIBOUST ideò per la prima volta questo magnifico dolce.
Altra fonte è quella di colelgarlo a Sant'Onorato, patrono dei pasticcieri e fornai.
La ricetta la trovate ovunque sul WEB , un pò laboriosa ma con ottimi risultati : Se non volete farla di pasta vera , fatela a punto croce!! Eccovi lo schema..

Do you recognize it? it's the fantastic cake St.Honoré , dough- version(and not icecream cake) with puff pastry, pate à choux ,whipped cream and crème chiboust.
The cake originates from France , Paris, in Rue St.Honoré the street where the confectioner Chiboust invented the cake in 1879. From other source, it seems that the cake was named afetr St.Honorius , patron of the Bakers.
You can find the recipe on the WEB : it's a bit tough but with great results. If you don't want to bake it, just cross-stitch it!

Voilà le gateau St.Honoré , aprés le patissier qui l'a inventé en 1879 justement en Rue St.Honoré, Paris!
Il y a aussi la trdition de le lier au Sanìint Honoré, le saint patron des Patissiers. Cellui à haut est la version originale fait de pâte feuilletée, pâte à choux , petits choux pleins de crème patissière et chocolat .
la recette on la trouve facilement sur le Web , un peu fatigante mais avec de bons résultats. Pas d'envie de le cuisiner? Voilà alors pour le reproduire à point de croix!

PDF FILE

ST.HONORE'