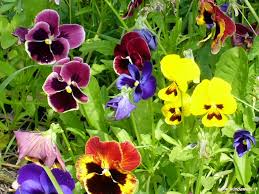 Una piccola serie di cornici per inserirvi un'iniziale di un'amica e regalarle un cuscinetto , un quadretto una scatoletta ricoperta in stoffa e personalizzata ,...un lavoro veramente molto semplice.
Just a little seqence of small frames in which adding a friend's initial letetr and give her a little cushion, a small box folded with nice fabrics and personalized,..very simple charts indeed.
Une petite série de petits cadres dans lesquels on peut mettre la lettre initiale d'une amie et lui donner un petit coussinet, une pendouille ,un pinkeep, .. des grilels très simples.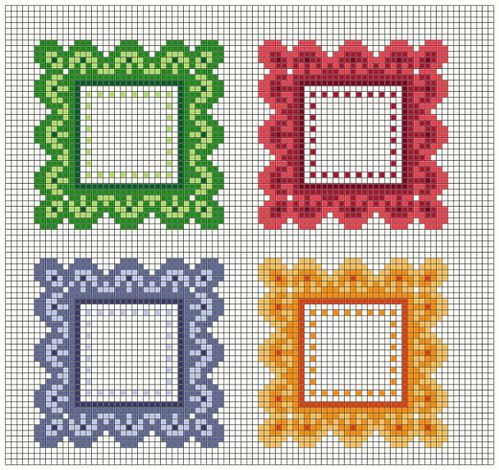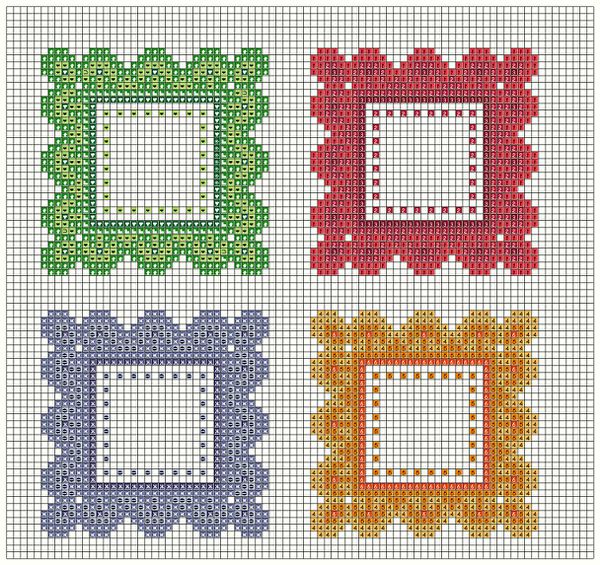 Made by Eze
Titolo : CORNICI COLORATE
Grid Size: 85W x 80H
Design Area: 13,06 cm x 12,88 cm (72 x 71 stitches)
Legend: Stitches
+ DMC 699 christmas green
K DMC 701 christmas green - lt
# DMC 704 chartreuse - br
$ DMC 704 chartreuse - br
% DMC 701 christmas green - lt
' DMC 699 christmas green
- DMC 157 cornflower blue - vy lt
. DMC 3807 cornflower blue
/ DMC 791 cornflower blue - vy dk
1 DMC 3801 christmas red - lt
2 DMC 498 christmas red - dk
3 DMC 814 garnet - dk
4 DMC 742 tangerine - lt
5 DMC 971 pumpkin
6 DMC 900 burnt orange - dk