Ecco un altro lavoretto a decoupage . La base di questo termometro mi ha attirata per il particolare del cuore intagliato in alto .lo sapete, ho un debole per tutto quello che è a forma di cuore!!!
Così è venuto fuori questo :



Another nice(and useful) work in decoupage style : the raw wood base of a thermometer drew my attention for the little heart carved on top. You know I love all kind of heart shapes! This time , instead of reporting flowers, landscapes or objects I preferred as subject the animals, a CAT and this quite cute , isn't it?
Un autre joli (et utile) travail découpage : la base en bois brut d'un thermomètre a attirée mon attention pour le petit coeur sculpté dessus. Vous savez que j'aime toutes les formes de cœur! Cette fois-ci, au lieu de reprendre des fleurs, des paysages ou des objets cette fois j'ai préféré les animaux, un chat et c'est assez mignon, n'est-ce pas?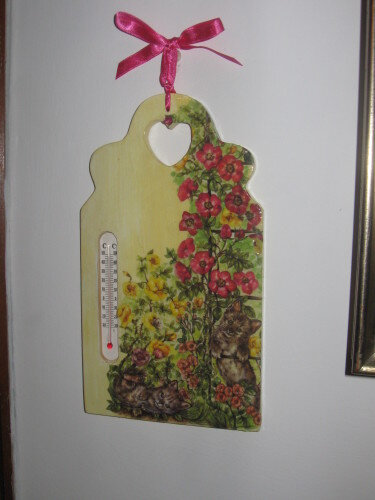 Ma ho applicato un disegno un pò insolito per me che vado spesso a fiori, personaggi ed oggetti: animali, gatti!!

ciao