ECCO UN CUORE AD UN SOLO COLORE , UTILE DA RIPORTARE PRATICAMENTE OVUNQUE, DAI CUSCINETTI, AGLI ASCIUGAMANI, AL QUADRETTO, AL FERMASPILLI (CUORE TRAFITTO IN QUESTO CASO...) , SU TOVAGLIETTE , ECC... ED E' DEDICATO A CHI AMA I CUORI .
FATTO CON SFONDO COLOR CREMA , POTETE METTERLO ANCHE SU AIDA BIANCA O BIANCO ANTICO OPPURE CAMBIARE IL COLORE DEL CUORE IN ROSSO DMC817 O IN VERDE GIADA
DMC 561 O ARANCIO O GIALLO ,...
Nice single heart to embroider with a Peacock blue on cushions or serviettes , towels , pincuchions for those who love hearts .
Petit coeur brodé avec une seule couleur , le bleu 806 de DMC , à reproduire sur serviettes, torchons, coussinets et dédié à tous ceux qui aiment les coeurs!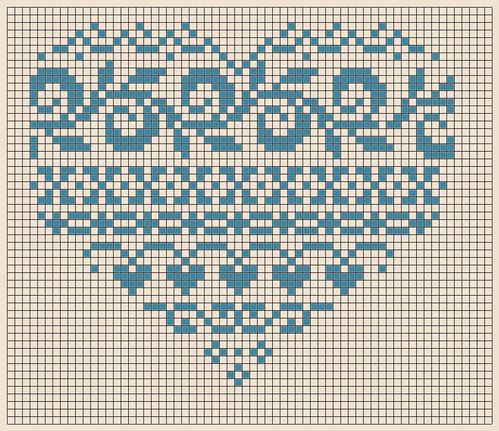 DMC 806 - Peacock blue (dark)