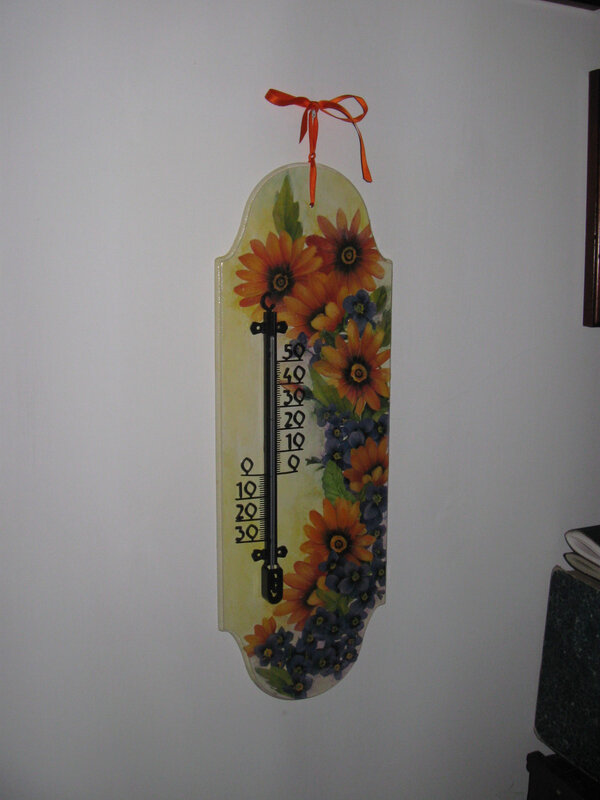 IL SUPPORTO IN LEGNO GREZZO VIENE DA OPITEC BOLZANO E IL TUTTO E' CIRCA 40 CM DI ALTEZZA PER 20 DI LARGHEZZA .ANCHE IL TERMOMETRO VIENE DA OPITEC ED E' VENDUTO SEPARATAMANTE DALLA BASE .

LA TECNICA E' DUNQUE A DECOUPAGE USANDO DELLE GERBERE GIALLO-ARANCIO MISCHIATE A FIORELLINI VIOLETTI SU UN LETTO DI FOGLIE VERDI.
NON SO LA PROVENIENZA DELLA CARTA USATA : FRA LE CENTINAIA DI CARTE A DISPOSIZIONE MI SEMBRAVA QUELLA , CON I FIORI, PIU'CONVINCENTE SU QUESTO BASE E PER QUESTO SCOPO.
MI PARE CHE SIA VENUTO BENE, IL LAVORO E QUASI QUASI LO METTO FUORI DAL BALCONE ... DI SPAZIO LI' ANCORA NE HO !!
THE RAW WOOD SUPPORT COMES FROM OPITEC BOLZANO,ITALY AND IS MEASURING ABOUT 40 CM HEIGHT FOR 20 CM WIDTH. ALSO THE THERMOMETER COMES FROM OPITEC AND IS SOLD SEPARATELY FROM THE BASE. THE TECHNIQUE IS THEREFORE DECOUPAGE ,USING YELLOW-ORANGE GERBERAS MIXED UP TO LITTLE VIOLET FLOWERS ON A GREEN LEAF BACKGROUND. I DON'T KNOW THE ORIGIN OF THIS PAPER: AMONGST HUNDREDS OF CARDS AVAILABLE, THIS ONE SEEMED TO BE THE RIGHT ONE , WITH FLOWERS, AND MORE SUITABLE FOR THIS BASE AND FOR ITS FINAL PURPOSE.
iT IS NOW OUTSIDE IN THE GARDEN AND LOOKS VERY NICE!
LE SUPPORT EN BOIS BRUT VIENT DE OPITEC BOLZANO,ITALIE ET DONT LES MéSURES SONT ENVIRON 40 CM DE HAUTEUR POUR 20 DE LARGEUR. AUSSI LE THERMOMÈTRE VIENT D'OPITEC ET EST VENDU SEPARATAMANTE DE LA BASE. LA TECHNIQUE EST DONC A DÉCOUPAGE : ON UTILISE LES GERBERAS JAUNE-ORANGE MÉLANGÉES A DE PETITES FLEURES VIOLETTES SUR UN FOND EN VERT. JE NE SAIS PAS L'ORIGINE DU PAPIER UTILISÉ: PARMI CENTAINES DE CARTES CELLE-CI AVEC DES FLEURS ME SEMBLAIT LA PLUS CONVENABLE SUR CETTE BASE ET POUR A VOIRCET EFFET FINALE.
IL EST DEHORS MAINTENANT, DANS NOTRE JARDIN ET IL EST TRES JOLI!